FENZ Brigade Members
In 2017, UFBA and FRFANZ Associations voted for change – to merge the two organisations.  In 2018, we engaged with members from both Associations across NZ and proposed how we may best go about the merger.
2019 saw UFBA members vote to formally adopt a new constitution that would allow FRFANZ member brigades to merge into the UFBA. The processes around the merger will continue throughout 2020.
17 TRANSITIONAL PROVISIONS (FRFANZ):
17.2 Member Acceptance of FRFANZ Brigades
The Chief Executive will exercise on the Date of Adoption the power set out in Rule 4.2(c) and deem that FRFANZ members, who are "Associate Members" as that term is defined in the FRFANZ Articles of Constitution dated July 2014, be admitted as Brigade Members of the Association.
17.3 Life Member Acceptance of FRFANZ Life Members On the Date of Adoption the Board shall be deemed, pursuant to Rule 4.3(c), to have recognised FRFANZ members, who are "Life Members" as that term is defined in the FRFANZ Articles of Constitution dated July 2014, be recognised as Life Members of the Association.
The UFBA:
The UFBA supports, represents and unites fire brigade personnel throughout New Zealand. All types of brigades are welcome as UFBA members – their membership consists of urban, rural, paid, volunteer, industry, airport, and defence brigades.  Discover more about their values and history here.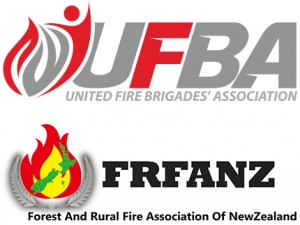 Non-FENZ Brigade Members
Established
 in 2020, T
ān
gata Ma

tatau was b

orn out of the merger of the United Fire Brigades' Association (UFBA) and Forest and Rural Fire Association NZ (FRFANZ) in 2019. It was established to provide a non-profit peak body for non-Fire and Emergency brigades and emergency sector-related parties. 
Tāngata Matatau seeks to 
unify the sector to come 
together, collaborate in areas of common interest and assist government agencies (and others) to engage with a diverse range of stakeholders.
Who They Are:
A sector group that brings together any individuals, organisation or agency associated with fire services, emergency services, emergency management, or any other matter where members have a common interest and reason to work together related to the Association's Purposes, within New Zealand or abroad.
Why They Exist
Rather than individual organisations working alone, we bring them together for a strong collaborative approach, knowledge sharing, and to provide a collective voice, where relevant, to shape changes affecting the sector.
With options for small to mid-sized organisations, large organisations, individual and associate members, there's opportunity for everyone with a vested interest in emergency management to be a part.

TO IMPROVE THE EFFECTIVENESS OF RURAL FIRE FIGHTING, FIRE PREVENTION AND PROTECTION MEASURES BY ALL MEANS, INCLUDING THE ENCOURAGEMENT OF RESEARCH
FRFANZ is a national association that represents people and organisations concerned with fire and fire protection in the forests and rural areas of New Zealand. The Association meets its role in many ways, including holding conferences with overseas speakers, promoting rural fire competitions, sharing information, lobbying, assisting with the publication of research reports, and providing service honours to fire fighters.
 SERVICE HONOURS
Silver Medal and Bars

Gold Star and Bars

Conditions and procedure to be followed to enable the award of the Service Medal

The Medal (and/or Bars) is available to active rural firefighters who are members of FRFANZ, or members of rural fire forces or organisations that are FRFANZ members. The medal may be awarded after the firefighter has completed three years' active service, and each subsequent three year period of active service entitles the firefighter to a bar to the medal.
The application form includes a signed statement attesting to the qualification of the firefighters.
Note that the same period of service cannot be used to claim both UFBA and FRFANZ Service Honours.  
Should a FRFANZ Medal holder become a NZFS firefighter, the National Commander has approved (9.2.10) that the FRFANZ Service Honours can be worn with UFBA Honours on the NZFS undress uniform.
Depending on stock, delivery should be prompt. Any delays will be advised. Orders will only be accepted if accompanied by the appropriate payment [Silver medal $50.00 each, Silver bar $12.50 each, Gold medal $75.00 each, 50 years Service star $100, Gold bar $12.50 each, postage per order $5.00 + GST] with engraving being the responsibility of the orderer.

It is suggested that rural fire organisations order service awards once a year, and hold an appropriate social occasion ('Honours Night') during which the awards are presented. Medals are to be worn on the left side of a jacket. Enquiries should be directed to Graeme McIntyre.

Conditions and procedure to be followed to enable the award of the Service Star

The Management Committee may grant the award of the FRFANZ Service Star in recognition of meritorious rural fire service to any rural firefighter, or rural fire officer, provided that at least 75% of its members approve the award.
Any application for the award must be in writing to the Secretary, detailing the claim for meritorious service. Once awarded, a purchase order should be placed.
The application may be lodged by a Committee Member, on behalf of FRFANZ.
In respect of long rural fire service, a period of 25 or 50 years will be an accepted criterion establishing meritorious service, provided good conduct has been maintained. If the award is made for 25 years fire service,  the recipient will cease to wear the FRFANZ Service Medal  and Bars.  If the award is made for 50 years fire service,  the recipient will cease to wear any previously awarded FRFANZ Service Star and Bars. The recipient will be entitled to add a gold Service Bar to the Star ribbon for each successive three year period following the award of the Star.  
If the period of 25 or 50 years is mixed NZFS and rural fire service, the Committee may grant the award, provided the applicant is still in rural fire service, and that this service amounts to more than half of the qualifying period. In this case, the recipient will not be entitled to additional gold Service Bars until 3 years after the qualifying period of rural fire service has been completed.